MBA Leadership in Sustainability
The executive MBA for leaders who want to achieve sustainable impact.
The starting point for the new generation of leaders
Europe's only data-driven leadership MBA
Your leadership challenge framed based on the 5 sustainable values of a BCorp organization.
Download brochure
Need some advice?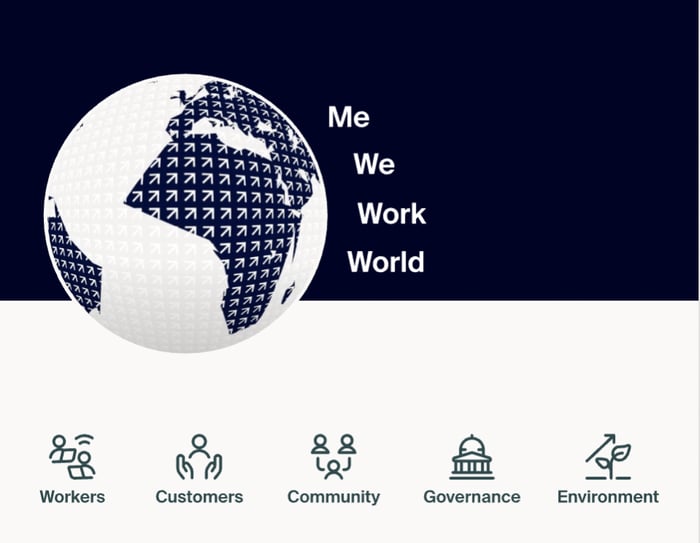 All programs evidence-based
Accredited Master & MBA programs
Data-driven leadership development
Leadership - Sustainability - Impact
Your journey to sustainable leadership
Sustainability can no longer be seen independently from leadership and the world needs leaders with courage to drive progress in this regard. Leading organisations from a different perspective is our challenge.

MBA Leadership in Sustainability
The ingredients of our MBA are: measure, deepen & broaden, practice and repeat. Through the data-driven leadership path and an internationally recognised sustainability framework, you will learn your position within the rapidly changing field. The MBA gives you all the tools you need to drive action and create impact on four levels through knowledge and skills: ME, WE, WORK and WORLD.

Specialization
In addition to a solid knowledge base of business subjects, the MBA Leadership in Sustainability offers a specialisation for Compliance and Management in Healthcare. This specialization of this international-accredited MBA emphasizes a hands-on and practical format, always responding to current healthcare or compliance topics. The keen focus on sustainability and leadership within your specialization makes our MBA Leadership in Sustainability unique.
Leadership: making a difference
Leading with impact, 360° feedback assessment
Customer Journey
Entrepreneurship, innovation, business models
Mission & Vision: Leadership Lab
Strategy, identity, branding
International business
Innovation & social return, business development
Governance & Finance: Leadership Lab
Organizational design & processes, finance & control
EU Market
Institutions, European market, public affairs, law & IT, The European Green Deal.
Lab Change & Impact Leadership Lab
Organizational dynamics, change management, 360° feedback re-measurement.

Thesis: As a crown on your MBA-journey and the academic insights gained, you will apply your academic skills to the SDGs from your Leadership Case. Designing, setting up and conducting a practice-based research project.
Modular and easily combined with work
In 1.5 years with only 40 physical lecture days you will not only get your MBA title but also an internationally accredited master's degree.


This MBA can also be followed modularly.


The program consists of 7 modules where leadership and sustainability are fully integrated. For more questions about content and literature or our leadership approach? Contact our program advisors!
Leadership in the MBA
Zenger Folkman's 360° degree feedback assessment, hailed by Harvard University and others as one of the world's most effective leadership development methods, provides insightful guidance. This global leadership database and statistical analysis with logical explanations and actionable application helps you as a leader, along with your organization take the journey to sustainable leadership with impact.
Sustainability in the MBA
The MBA program uses B Lab's international framework "Business as a force for good." The sustainable values: "Workers, Customers, Community, Governance and Environment" are addressed throughout the MBA. You will learn how these relate to the four levels: ME, WE, WORK and WORK. You will also go through proven success stories of sustainable businesses in sustainable trials and you will face the same choices as key stakeholders.

Challenge yourself in our Leadership Labs
In our Leadership Labs we offer challenging and realistic cases in which you can practice what you have learned by being continuously challenged by renowned academics, experts in the field and your fellow students from different industries and disciplines. This interaction leads to immediately applicable insights for your own LeadershipCase in your organization. The two trips abroad, to South Africa and Brussels, place what you have learned in an international perspective.
Admission criteria
To guarantee the quality of our program, we require the minimum admission requirements:
Minimum of a bachelor degree or equivalent
At least three years of relevant work experience in a managerial role
A suitable current job
Starting moments
September & March.
Location
The sessions take place at our location in Amsterdam, near the Rijksmuseum. Academica's address is Weteringschans 28, 1017 SG. We are easily accessible by public transport as well as by car.
For whom?
Are you already looking beyond your own organization? You don't make a successful journey on your own. To truly realize impact, you will need to step outside your own sector to make the cross-over. We live in one world with collective challenges that require common solutions.

Participants in this part-time MBA have in common that they are all professionals looking to deepen their professional knowledge as well as personal impact. The MBA participant is ambitious and willing to take a critical look at themselves.

The average MBA participant is between 30-45 years old and has over 3 years of relevant work experience.